We've always laughed, John and I, and said it's a cruel joke, this thing of Mother's Day being on Sunday.
Mothers across the nation wake extra early, readying small ones for church, preparing for a long day of Sunday School and services, lunch with napless toddlers in packed-to-the-windows Italian restaurants, the typical Sunday evening preparations for another week. The mothers wear smiles and corsages, bracelets made with macaroni by tiny hands. Each mama welcomes the love and the honor and the accolades, but all she really wants is an infusion of sleep without wasting the time it takes to actually, you know, sleep.
Our Sunday was beautiful in all of my favorite quiet ways, filled with the running, giggling, and singing of little boys, sushi, and time to knit. I was showered with kisses and construction paper cards, poems and a hot pad with a painted hand print flower. John wrapped his arms around my waist, whispered of how he adores the three small humans we parent together, how he loves the way I mother them. We ignored the chaos, John cleaned the kitchen and I'll spare you the story of the incident involving a small person and a full bladder. Mother's Day was sweet and simple and good.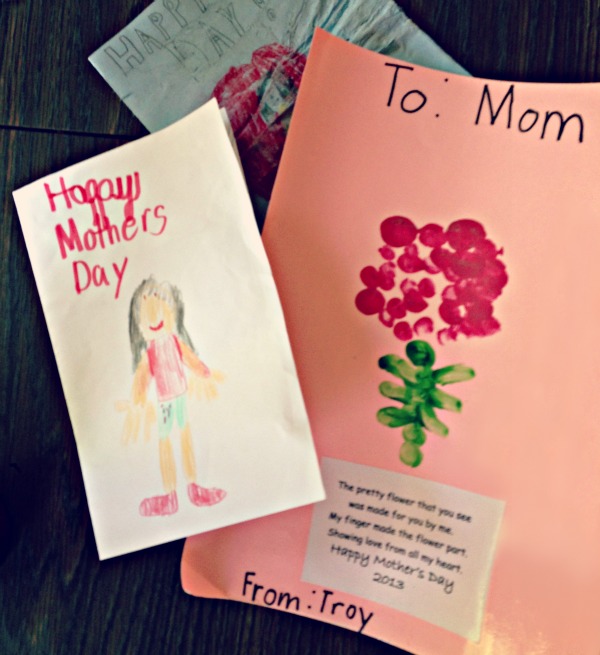 But today is Monday and Shelton coughed himself awake all night long. The morning began in earnest at 5:30am and there have been lunches to pack, a tired preschooler with a runny nose, a leaky diaper, a full dishwasher and a sink somehow already stacked with plates and bowls. I discovered too late we're devoid of an essential food item, which means I'll actually need to get dressed before school starts this morning and run to the grocery. My calendar tells me I have doctor's appointments to schedule, phone calls to return (I'm the worst about that) and hours of work to squeeze into naptime. The basement is nearly unwalkable, the result of three neighbor boys over on Saturday to play Legos and Angry Birds. I'm afraid to use the toilet in the downstairs bathroom.
For an hour yesterday afternoon, I clicked my way through a few of the pieces shared in our simple stories linkup on Friday. I read Amy's heartfelt letter to her teenage children and sweet Laurie's tale of a day in early motherhood and both tangled up somewhere inside of me this Monday morning, because this is it, isn't it?
Today is the real mother's day, the day after our holiday, when the flowers are on the mantle but someone needs to water them, when the cards tumble like dominoes and the kisses are out the door on the way to school. Today there will be whining and the tiny humans will create gigantic messes and the notes we receive will come from the teacher's desk. We'll have heavy conversations with our older ones while wiping the faces of the small folk. We'll oversee homework and fold five loads of laundry and we'll grab take out for dinner. We'll go for a walk, run 25 errands, read books, and do the bedtime routine. We'll whisper to ourselves throughout the day, thoughts of life and wonder and philosophy and justice and truth. Then we'll fall into bed, too late, without making time to write them down.
This is the day we are more than the cards, more than the accolades. We prove, here, our own faithfulness in doing the hard work of the daily loving and living, of partnering with any partners we have, of holding up our good habits and asking for help, of keeping our heads down through the rough patches and finding beauty in those gentle moments when it all comes together.
This is the day we become more of what we already are, the ones who do the sacred work of mothering and nurturing and loving deeply while hiding the dark circles under our eyes.
Happy Mother's Day, mamas. You're celebrated on Monday, too.