Springtime in the desert was hot. So very hot.
A wave of warmth each February tricked us into pulling last year's t-shirts from plastic bins and we all talked of swimming. There was always a snap, the last hurrah of the winter wind, the weeks we were most likely to see snow. But spring – real spring – arrived early in April, and with it came a crisp breeze, an almost-beating sun and the creeping of temperature gauges toward 100 degrees.
My brother and I tore out the door during those in-between weeks, when it was hot but not sweltering. We built houses between spears of yucca plants and tall Joshua trees. Using California's own hula hoe, we banished weeds and created hallways and rooms in the hard packed dirt.
(Did you know if you Google "hula hoe," my tiny hometown shows up on the first page of results? We must have cornered the market.)
We fancied ourselves botanists during the gardening season, Zachary and I, setting up shop with boards nailed in the juniper branches, selling sprigs of unknown foliage and attempting to cure wounds with mud. We mashed yellow berries and flowers in a Mason jar, added a scrap of white fabric and filled it with water. We screwed the lid on tight, set our dye in the sunshine, waited a few weeks. The fabric was white, still, when we pulled it out, but our fermented concoction would likely have cured any backyard ailment.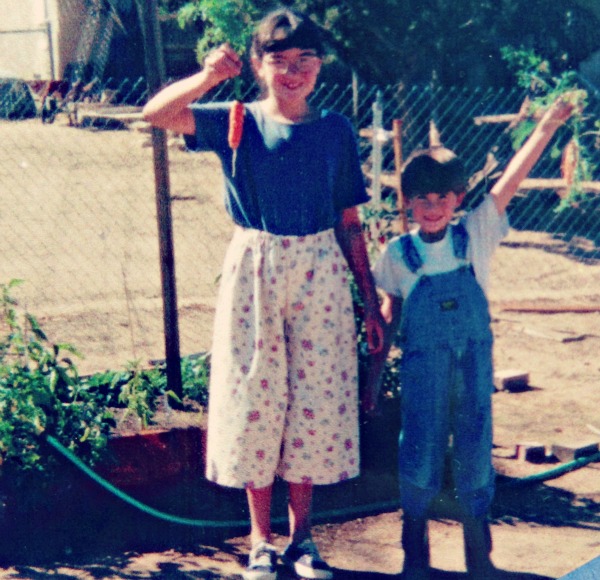 Our brows trickled sweat in the spring and my headaches returned every May, but those were the laughter days. I learned to climb trees in a dress then, handmade white bloomers peeking from beneath my blue jumper if its hem caught on a branch. Zachary wore buckskins every day, a wooden musket slung across his back and a coonskin cap atop his milk-chocolate hair.
Math books could wait on the kitchen table, science experiments would be finished in the evening. The spring days were running away from us, we couldn't catch them, and we had bicycles to ride. We lived high in our mesquite tree, carving our names in the branches, telling each other stories.

Spring in Virginia is unsure of itself, ordering us to wear sweaters in the morning and shed them by noon. The heat will be here in a few weeks, the humidity suffocating and the thunderstorms exhilarating.
My boys swing wide the front door at four in the afternoon, drop backpacks with a thud and slam the backdoor. They flip and toss on the trampoline for an hour, climb a tree and find me when they fall. Then they ask to play the Wii or to watch Power Rangers and they want to dress up like Obi Wan Kenobi.
I think of buckskin pants and fermented yellow dye, read pieces like this one and make five second plans to homeschool in the fall.
The desert was beautiful in the springtime.

Exercising my simple storytelling muscles. Are you writing your stories?