On warm mornings we slide up the windows, the front of the house open wide to a line of cars snaking its way into the high school parking lot across the road. The boys pull the blinds to the top of the bay window, the 7am sunlight on their faces as they watch John weave his way into the thread of vehicles. Shelton balances against the finger-smudged glass, pulling his fist into a backward wave. "Buh buh, Dada."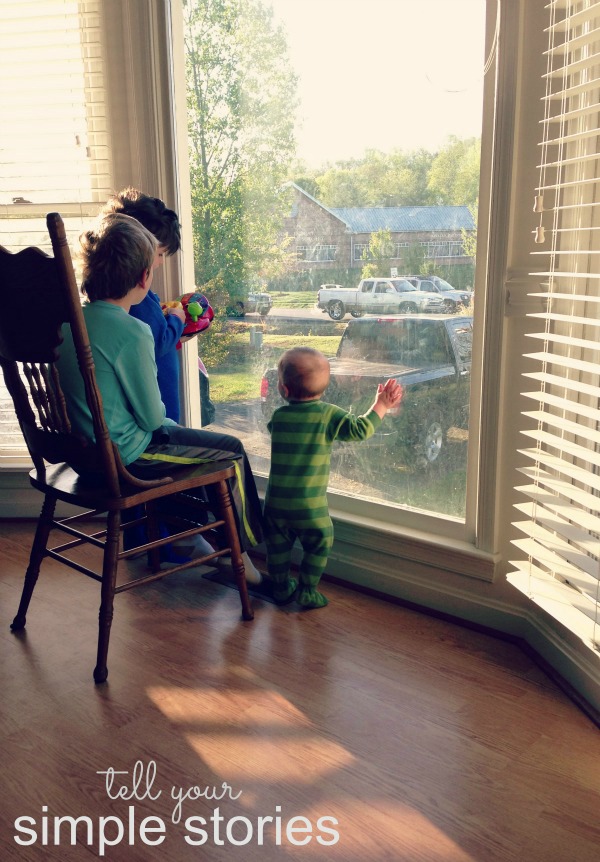 The big boys think they're old enough to help out by making breakfast on their own each morning. We're in a season of cold cereal and yogurt due to, well, mornings, but everyone prefers protein, naturally. So they spill egg yolk on the stove and shred cheese which ends up dotting the wood floor, mashed into kitchen rugs. I pretend to be unloading the dishwasher, lifting my eyes carefully, veiling my cautions, turning down the temperature gauge because eggs cooked at the speed of Christmas coming are better than a burned elbow. They serve me cheesy scrambled eggs with grins the size of Texas.
We've been on a Keith Green kick, playing thrifted albums again and again, ignoring the warp and forgetting to turn them over, wondering why the music stopped. The boys dance dramatically through the music room and I sway side to side, the baby's head tucked under my chin.
"Like a foolish dreamer trying to build a highway to the sky,
all my hopes would come tumbling down
and I never knew just why.
Until today,
when you pulled away the clouds
that hung like curtains on my eyes.
I've been blind,
all these wasted years
and I thought I was so wise.
But then you took me by surprise.
Like waking up from the longest dream,
how real it seemed,
until your love broke through…"
Yes, yes, this.
Most mornings are full of urging and cajoling and pleading before 9am. Did you brush those teeth? Small folk, shoes on, now. Do the animals have water? You do actually have chore charts for this stuff, boys.
Yesterday Merritt informed me they won't be able to obey in the mornings any longer because my brother moved to Omaha for school last month after sharing our space for nearly two years. According to the five year old, without their uncle readying for work alongside their school preparations, brushing teeth is an impossibility. But apparently spending 20 minutes on one's hair, using a full tablespoon of gel and brushing it into an old man's comb-over in an effort to look like the hipster uncle is a very legitimate possibility. Every morning.
Ah, well.

***

Have you written your simple story? If not, perhaps you want to take a moment to jot down a quick tidbit today, no pretense, no premise, just sharing a snippet of whatever it is you enjoy sharing? The way we used to do it.
I'm opening a linky, just this once because I doubt we really need more linkups when so many splendid communities already exist. But I don't want to miss what you're writing from this end-of-the-week window. Will you leave a link to your simple story from yesterday, today, over the weekend?
(If you're feeling overwhelmed, perhaps meander over to Lisa Jo's and take a peek at the stories shared there. This week's prompt is Comfort. Full disclosure: I didn't write on comfort and I didn't link up. I just like the community they've developed over there.)
Thank you all for being here, for showing up and making me feel a little less crazy. I like you.
Lovelove,
Ash