I was planning to still drink coffee.
It seemed unecessary to give it up, it's just a drink after all, and I could donate 55¢ for each K-cup I pop into my high tech coffee machine.
I'd still be giving up my syrupy sweet mochas and my smooth lattes and my wine on quiet Sunday evenings. I'd pass on that juvenile glass of creamy milk with dinner and I would pour one less tumbler of orange juice on pancake Saturday mornings. No diet Coke at the date night restaurant and no root beer with pizza.
It would be water, water, water. Forty days of water.
But don't ask me to give up my coffee.
No matter that it's for a reason, that each cent I save by not drinking milk and root beer and Cabernet will go into the grand fund and together, all of us water drinkers, we'll build a well and give water to those without it.
Just don't ask me to give up my coffee.
So I planned to do this, to tell you about Blood:Water Mission and how we're building wells in Uganda, one glass of tap water at a time, and how you can be part of it, too. But I was going to confess to you my strong grip on the plain drip dark roast, and how I would match each mug of the steaming bittersweet goodness with an equal donation.
Because don't you dare ask me to give up my coffee.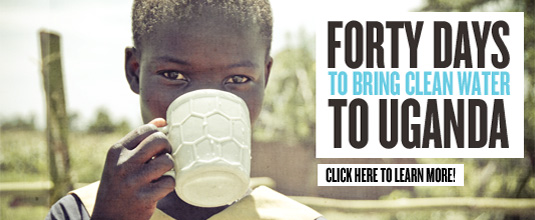 We're building a well in Uganda, friends, these 40 days. We're drinking water, unglamorous water, and nothing but water.
These people across the ocean, they're brothers and sisters here on this planet and they need something so simple, something we run down our toilets and allow to flow over our food-stained dishes and find has flooded our yards when the small ones play with the garden hose.
In Uganda, 33% of the population is without access to that substance we waste in excess.
But I want to ask them to wait for that, just hold on a minute for that water. It's a little too much of a sacrifice for me, because I can't make my brain function quite right if I don't jump start it with this steaming mug, so just wait a bit, friends. You'll be okay without that water for another few days, won't you? Just let me sip this warm drink.
Blood:Water Mission is hosting the 40 Days campaign, in which we gather together with our water bottles and empty goblets, tracking each drink we give up and putting those quarters and dollars toward bringing clean water to Uganda. It's forty days, starting tomorrow, February 13 – March 30.
Lent.
It really isn't at all about the coffee itself, whether or not I drink it.
I need to feel this.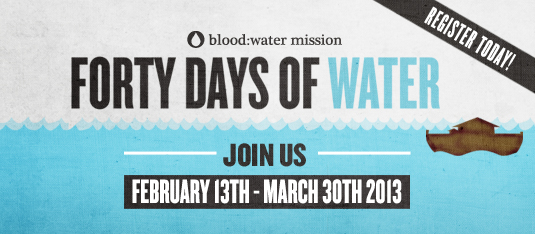 I'm asking you to join me. It's really such an easy way to partner with our brothers and sisters in North America and Africa.
(You don't even have to give up your coffee. Several people on our team plan to match the cost of the coffee they drink or even double it. This plan is totally acceptable.)
Learn more about 40 Days at Blood:Water Mission. (I'm a big fan of their Empowerment and Partnership model.)
Create your profile and begin tracking your drinks right from your phone.
You can follow along on my profile and on Twitter and Instagram with #40Days.
We can do this, you know? Coffee or no coffee, eh, I can live without it for a while.
But water? They can't live without that.