Last week I may have stormed up to my room.
I may have closed my door harder than intended (or perhaps, yes, as intended) and then I may have curled my legs to my chest, leaning back against the door of my big, messy closet.
I may have banged the crown of my head against the hanging mirror before realizing it likely wasn't a good idea if I hoped to keep the mirror.
I may have gritted my teeth and lamented bitterly to myself about the lack of time and the exhaustion and the need need need to create and to write words and to think about something other than laundry.
My baby is three months old and the fog of pregnancy clears slowly.
I've been scribbling notes here and there, on napkins and in notebooks and on the backs of envelopes.
What does it mean to combine art and motherhood?
I'm typing now with a boy kneeling beside me, yellow paper ears stapled together and tied precariously to his head with blue yarn. The baby is learning to roll from side to side and my middle boy is hungry again.
I'm writing now, listening to the big boys whoop their way from chair to bar stool to piano bench to floor. Shelton is asleep upstairs but I hear him stirring on the monitor. Who could sleep through all this hollering?
I'm tapping my keyboard now, sitting at a tiny corner table in a coffee shop. My guy came home from work and shooed me out the door because my piano student canceled and the baby decided he didn't mind sipping his mama milk from a bottle if Daddy holds it.
I'm sitting in the quiet now, a grey Virginia summer morning. Yesterday John and I took a grocery list and a few dollars to Costco for a date night of cereal and chicken breasts, pineapple and celery. We talked of life and goals and dreams and us. Later, the big boys asked to sleep in the basement and watch a movie. We said yes, because it is summer after all, but we heard their feet tiptoeing upstairs before midnight and we laughed.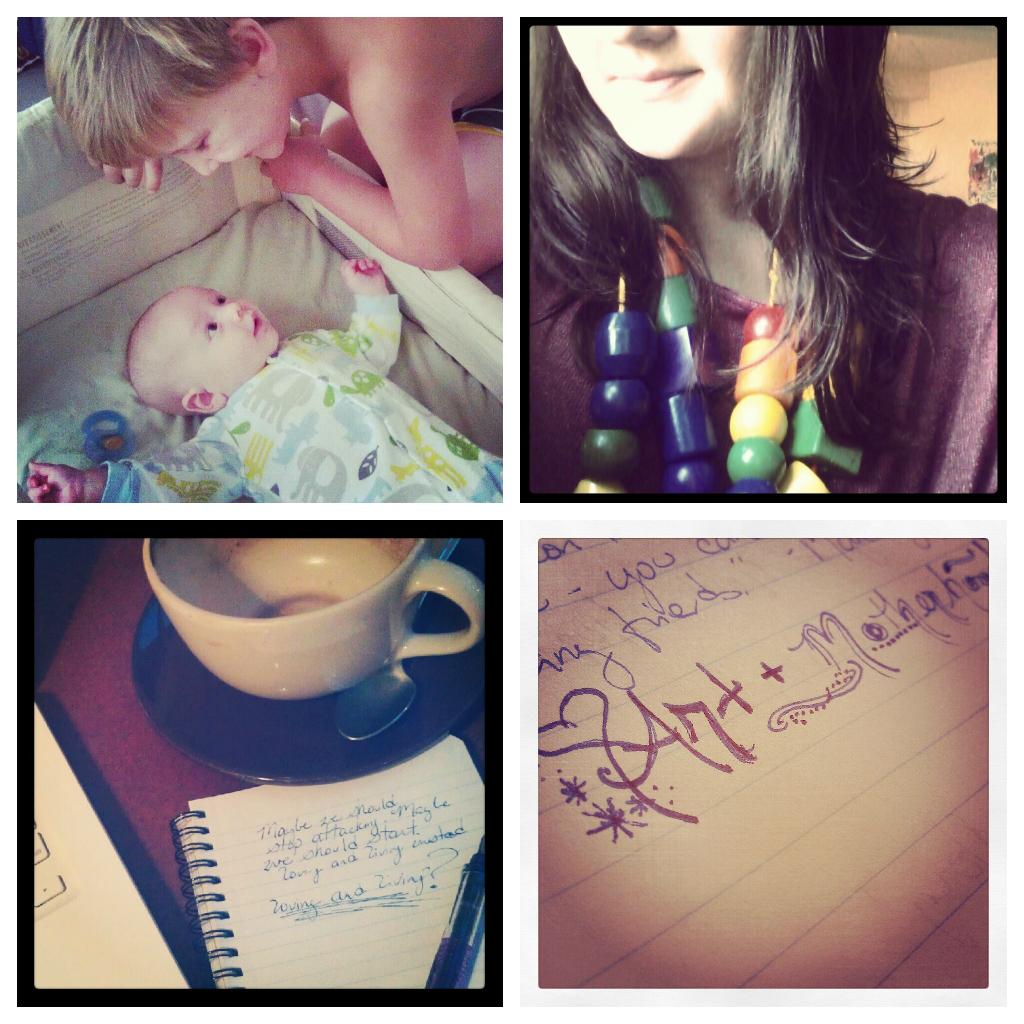 This is life, wrapped together with a silk ribbon and spilling over to the floor.
I'll catch the pieces that fall
and tuck them back in
and call it all art.