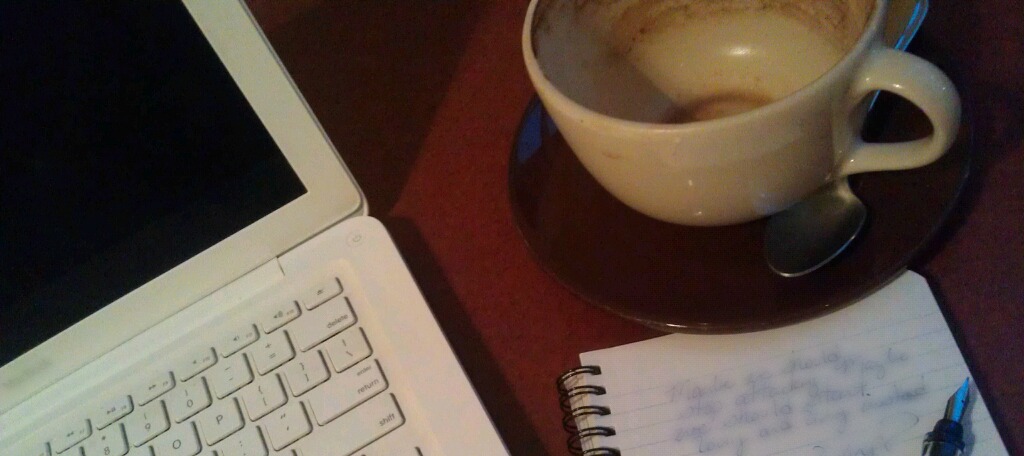 Wednesday nights I go to the coffee shop to listen to people talk.
I say I'm going to write, when I leave those three boys with their daddy, but I step in the door and am lulled by the scent of burnt beans and the hum of conversation. I pay three dollars for a cup of sweet coffee, open my computer, reply to a few emails, tap notes to friends, bite my fingernail and stare at the screen.
And I listen to people talk.
***
Three tables down that man, a boy really, is tapping his heel against the floor, flipping a capless pen against the edge of his seat. His eye, staring, trained on the door until a man walks through it and bee-lines the tiny two top.
Bald, this new arrival, blue striped polo and jeans, brown suede loafers. Notebooks and a laptop screen open, they're discussing a church offering campaign. The older one exudes leadership, the boy clever ideas and tech know-how. They plan. I catch tidbits of two humorous videos and a few catch phrases and a couple Bible verses written on paper.
"The problem is people need to be gently led to open their wallets," the pastor sighs.
The kid grins. "But they give more if they think it's funny."
A girl is breezing in, now, tall and lithe, straight brown hair tied up in a bandana. She hunches her shoulders and leans expectantly toward the pepper-haired man across the table. "Mr. Bradford," she calls him and he has kind eyes. Philosophy spins from their lips, wisdom and youth, winding ideas about our country and politics, the way people live in Russia, the way they live in Africa.
She moves quickly, clasping her hands and hugging them to her chest. Leaning forward again and she asks him, "But… but what about God? Does he… or she… have anything to do with it? The world, I mean?"
He sits back and nods slowly. "I do think God is running things here, spinning this world on his finger like a basketball, watching the way we live and giving us pointers on how to do it."
"I think maybe I do, too," she breathes, tilts her head. "But I don't really know."
***
I write a paragraph and then delete the whole thing. I chew the nail on my tiny finger, chin on my wrist. Shift on my corner bench and prop my feet on the chair opposite me.
A group of three sets their stack of books on the table beside me. A ringed notebook, a bound Bible with gold-edged pages, and a red-covered book I recognize as Francis Chan's Crazy Love.
The dark haired girl sits tall. "So, for Elevate? Should we keep doing our fellowship night at Joe and Kate's, and what do y'all think of that new Bible study?"

The boy blows air between his lips. "I think Elevate is a good ministry, but it's getting a little stale, you know? I mean, the new study should be riveting, and this, just… isn't."
Another girl, one with curls, shakes her head a bit. "I don't think that's the point. Isn't God's Word enough anymore? Why do we need gimmicks? We're Christians, you guys, and we should just want to read the Bible together."
"Whul… I guess that's true." The boys shrugs, standing. "But sometimes being a Christian is just a little boring. Maybe we should do something cool, like visit a prison. Hey, I'm going to get some coffee."
The girls turn to each quickly as he leaves and the first one's eyes get wide. "So, you and Jack? You think he wants to marry you? Have you slept together yet?"
The other one blushes hard and laughs.
***
The coffee house closes at 10:00, so I pick up my laptop and move to the wooden chairs outside, where it's warmer and louder with the hipsters packed around tables, flicking cigarettes. But the two men at the next table don't have sideburns or skinny jeans, and I can taste their cigarette smoke as I open my notebook and search for an idea among the jotted words.
The one with a Marine haircut takes a drag. "You know Christy? That girl from AA? She keeps telling me I just need to get to church or some sh*t like that."
His friend laughs too loudly and slaps his thigh. "Church? What the hell is that supposed to mean? These stupid *ss Christian people think they can just take a guy to church and he'll fix right up."
"But you know, man," the Marine shakes his head. "Sometimes I think she's right. I mean, after I got arrested last year, I prayed and I think someone was listening. I don't know, man."
"Naw, dude. Don't tell me you actually believe that sh*t."
***
The college kids are getting louder and the bar across the street rowdier.
I pack my laptop and my spiral notebook.

It always comes back to this, doesn't it?