Let the house be a mess. Let the house be a mess. Let the house be a freaking mess.
I don't know where it was I picked up this idea that the measure of a woman is the state of her house.
But somewhere along the road I grabbed the handle of a heavy suitcase that had no wheels but did have the word "perfection" emblazoned on its side. I've lugged it behind me these eight years of homekeeping.
Perhaps the road was named "worth" and its cross street called "woman's duties" but I traversed it willingly, happily in the beginning. I'm an all-or-nothing girl who takes any decent cause and cheers it until it's become a weight around my neck.
So it is with this house of mine.
My chest gets tight when my eyes behold clutter and I can't rest if there are breakfast bowls beside the sink and I can't go to the park if I've left laundry folded on the couch, can I?
The converse, in true extremist fashion, is that when I have to do exactly that – leave the laundry or the million tiny bits of paper cut by safety scissors – I decide it's not worth trying because it will never be just right and let's all just raise our hands and give up already.
It's just a house, isn't it? But it's three stories tall and each one the size of the little cottage we called home before this. And it's bathrooms with toothpaste in the sink and so much light carpet for both the black dog and the vacuum to cover. It's a sink full of dishes and guest room sheets to wash and a basement of scattered toys and couch pillows and did I mention all the vacuuming?
It's ungrateful, I know, and absurd, I'm sure, to say that the house is just too big when so many wish for any house at all or for more space for little legs to jump and toddle, for voices to laugh and carry. And this house, a true gift in its rental price to fit our budget and its yard and the wooden playhouse. How spoiled can one family be?

But still I tense my shoulders and mutter under my breath. I run around the furniture, picking up toys and straightening the blankets tossed over the couch and picking little pieces of black dog hair from the carpet to keep from having to pull out the vacuum for once. I sigh over the bathrooms and the toys and that one office-slash-craft room we can never seem to get set up properly.
I counted one day how many times I take the stairs and lost count after fifteen. The baby startles in my arms at the speed with which we fly up and down these two flights.
This thing is good, you know? The life we live – the way my husband works hard and I work hard and my part of this partnership is to mother the tiny ones. This house – its tall windows and big white mantle. I'm feeling it right to call this place home and I'm learning to again treasure my privileged place in this family as dwelling keeper and maker of a lovely abode. I've left the road called "have to" and now walk along "get to."

But still, I stand on the grass of this white giant of a place, smile a bit and shake my head at it.
I'm not going to live for the house. I'm going to live from the house.
In fact, I'm going to live from the house.
Oh, I'll clean it. I'll wipe my counters and scrub my toilets and I'll vacuum all three levels.
But I'll leave those stacks of books beside the couch and I'll leave the house with dishes in the sink. I'll let friends pop in when the basement is a wreck and I'll nod politely to the blocks and action figures on my way up to bed and tell them
I have too much life to live.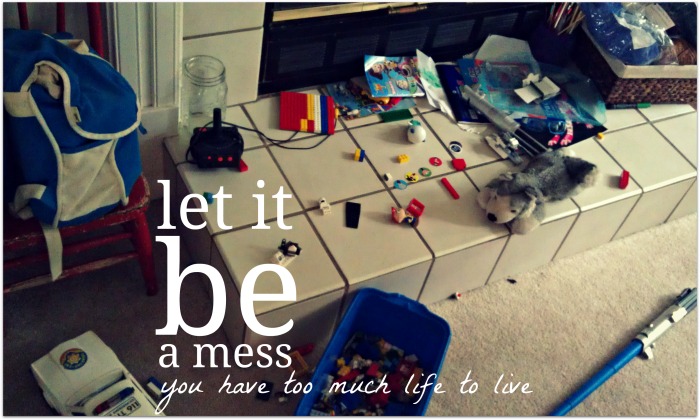 "Funny, isn't it," I said to John the other night, "the way it feels a little more homey when it's all slightly messy around here?"
"You mean," he smirked slightly, "it feels like people actually live here?"
Let the house be a mess. Calm down and breathe and let the thing be a mess.