In three weeks, my biggest boy will walk between two heavy glass doors, down two longs hallways and into the start of first grade.
You may remember my apprehension last summer. I hadn't been inside a school since my own first grade year and I approached the sending of my boy to a classroom with more than a little fear and trembling. The schedule, the structure, the supplies – it was all foreign to homeschool-graduate me. I hadn't yet learned how to navigate school halls, manage a PTO event, set out the correct shoes for P.E. day, deal with the mountains of paperwork.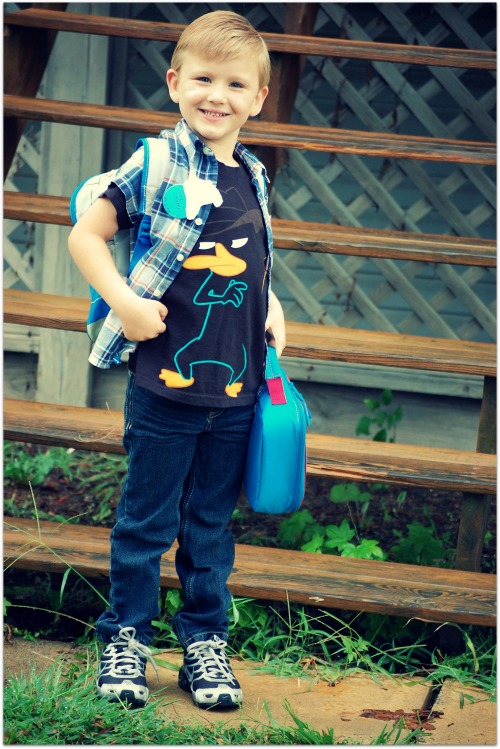 How was I to know even lunches had a learning curve? We started the year with peanut butter and jelly, but Troy prefers turkey breast and cheese with a little mayo. Granola bars are too crumbly for snacks, and bananas will only survive the trip if they are still bright yellow. Fruit cups are too hard to open at the lunch table. But pudding? Always good. As are cheese cubes, cheese sticks, cheese slices, cheesecheesecheese. And apparently there is a lunch hierarchy. Boiled eggs? Cool lunch. Mac and cheese in a thermos? Awesome. Goldfish? Not so cool.
And then I discovered the bell bottom jeans of the kindergarten lunch world. GoGoSqueez. Those green pouches of applesauce had become the status symbol of lunches at Troy's lunch table, which he made clear by dancing and grinning and pointing in the grocery aisle. And who was I to say no? Natural, good ingredients, easy peasy for tossing into school lunches. We settled in to a lunch routine: turkey sandwich, GoGoSqueez, grapes, cheese stick. Sometimes a pudding, a cookie, a boiled egg.
I figure, to each his own. In my crowd? It was cool to wear our hair in braids and make our own clothes. In Troy's? It's all about the applesauce packets and boiled eggs.
Here's to first grade, little man, and to everything we'll learn together.
***
Beginning in September, a few friends and I are planning to devote one day each week to writing about our parenting journey. I'm just warming up a bit, so for now, will you join me by telling me something you've learned thanks to a child?
***
Speaking of going back to school, you don't want to miss the grandiose Big Bad Back To School Bash! Ten individual prizes, one great grand prize, over $1500 of gear and gifts. Pretty spectacular!
Disclosure: GoGoSqueez sponsored one of the prizes for the Back To School Bash. But we haven't been compensated in any other way for the opinions of this household – my boys just really love applesauce packets with cool little twist-off caps.