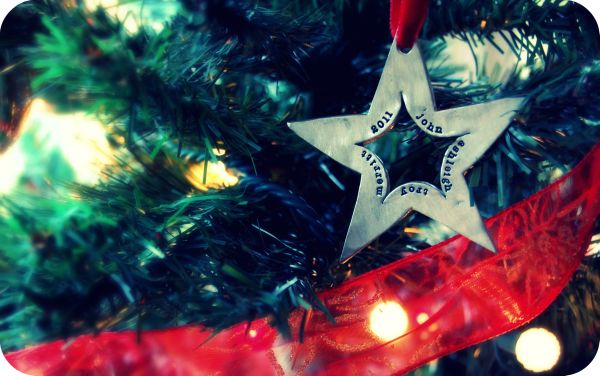 We woke to a house shrouded in early morning darkness and no heat. The light switches were reduced to mere plastic and the stove wasn't exactly helpful in cooking oats. So we put a log in the fire place and lit a few candles and snuggled under blankets on the couch.
Who needs electricity anyway? The mornings are so cozy without it.
My knitting needles and crochet hooks have turned into elves this week, working like mad to form yards of wool into wearable gifts. I want to show you everything I've made so far and tell you about the rest I have planned, but how, exactly, do I show you when the receivers of these gifts might likely read the words here? Hmm…
Our neighbor's rooftop is covered with blue lights. His windows are lined with blue lights. His door and trim and trees and driveway and even the yard itself are all blanketed with bulbs in every hue.
Yes, we live next door to that house. People drive by and park their cars and cameras flash.
We wrapped lit garland around our porch and hung big green wreaths in the windows and tied red bows to our outdoor banisters. Sometimes I think I would prefer being 75 to being 25.
My dear friend Lisa sent us a silver star ornament and I gasped when I opened the package. It was more perfect, sitting there with its red ribbon and our four names etched around the middle, than I imagined it. Four names and a year, for the last year we'll only have four names. Troy said, "Hey, it says our names. How did she know our names? Do your blog friends know our names?"
To think that in our time we've watched the line blur between online and real life and that in twenty years he may not know there ever was a line.
I think we're going to stay in our jammies all day on Saturday and make my family's famous chocolate dipped peanut butter and marshmallow fluff cookies. I always buy three times the amount of crackers we need and a tub of peanut butter that will last a year, but oh heavens. These cookies. We need fifty million of them if they're going to last until Christmas.
***
Lisa Leonard graciously gifted us with this molded star ornament from her new line of holiday decor debuting this Christmas season. She is also offering 10% off of all orders using the code ORNAMENT2011. Perhaps you see one of her new Christmas ornaments that will look splendid on your family's tree this year?